MOTH ORCHID MODELS ADDED
Moth Orchid Vase and Harvestable models have been added:
---
Moth Orchid plant models have also been added:
5.5 PRELIMINARY PATCH NOTES
The 5.5 Preliminary Patch Notes have been put online. We will be getting a new flowerpot seed (Moth Orchid Seed):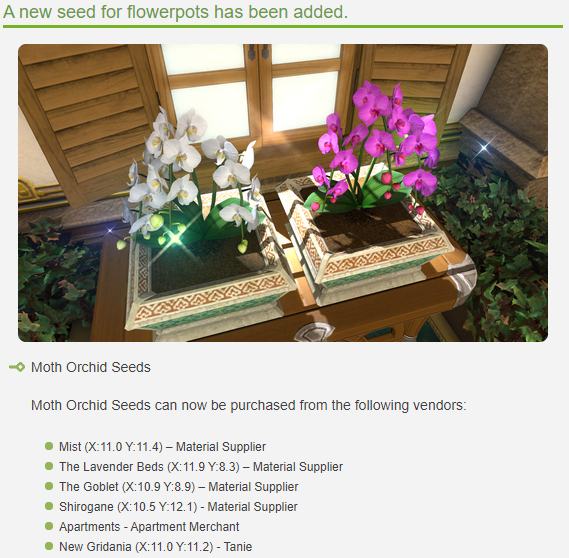 GARDEN BUILDER
I'm happy to announce a new feature on the gardening site. It is currently in the very early stages of development but I feel it's ready to be put online.
You can now build a simple garden layout with the Garden Builder:
https://www.ffxivgardening.com/build
After selecting your seeds in each bed you can click the Generate button which will generate and random url for your new garden. You can then share the url how you wish.
I've included a couple links to already created builds in the sidebar and will add to them in time.
The navigation menu has also changed a little. There is now a dropdown called "My Garden" which contains links to the Garden Planner and the Garden Builder.
I will hopefully be expanding on the builder in the future and welcome suggestions and/or bugs you might come across.